Truck drivers are all too familiar with delays and long waits. Sometimes they come to work ready to hit the road but get held up waiting for their trucks to be loaded. Sometimes they arrive at their destination and there is a queue of trucks waiting for cargo to be unloaded. The delay truck drivers are subjected to under circumstances not their doing and the corresponding wait is called driver detention.
Drivers are not usually paid while waiting. Steve Skinner, writing for the Australasian Transport News, opined that because customers do not have to pay drivers to wait around, it will not be surprising if they keep drivers waiting longer.4 The Transport Workers' Union calls it wage theft5. It is, however, not unique to Australia. In the United States, it has been reported that driver detention costs more than US$1 billion per year. Data for Australia is not immediately available, but it will not be surprising if the amount is just as big.
There is strong research-based evidence that driver detention, in addition to being a wage issue, is also a road safety risk factor. In a report by the Inspector-General of the United States Department of Transportation, it was revealed that a mere 15 minutes of delay increases the expected crash rate to increase by up to 6.2%.6 Research at the University of New South Wales has revealed a connection between driver detention and fatigue. It was found that drivers required to wait in queues experienced fatigue more often than those who did not.7. Meanwhile, the US-based National Safety Council has said that people are 3 times more likely to be in crash when driving fatigued than those who are not. 8 "Driver fatigue kills more than drink," Amanda Hoh reported at the Sydney Morning Herald.9.
The Wait Advisor Project: Using Dara Science to Eliminate Delay
The idea behind the Wait Advisor is simple: if we know where the delays are happening, when they are usually happening, and for how long they are happening, a targetted solution can be formulated. The Wait Advisor is a platform for crowd-sourced information which aims to make actionable information on wait times and delay available to stakeholders, providing insights and hard facts on where wait times and delays occur, when they occur, and how long wait times and delays are. An understanding of these parameters ultimately lead to solutions that will minimise, if not eliminate delays. Potentially, trip planning could be optimised to avoid bottlenecks and queues by distributing arrivals and departures off-peak. Delays in loading and unloading can be identified and more efficient processes could be introduced 10 which may even cut costs 11. More importantly, however, is that the likelihood of crashing will be lowered, ultimately making roads safer. It is in fact the thought that the platform can potentially save lives that has motivated In2Teq Smart Systems, the team behind the Wait Advisor, to pursue the project.
Download the App
The Wait Advisor is available to download for FREE from the Apple App Store and the Google Play Store. Click on the links below to download. The app is free to use, but carrier charges may apply for use of data. Please refer to your carrier's service terms and conditions.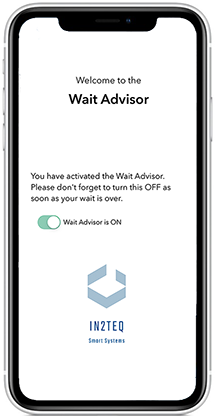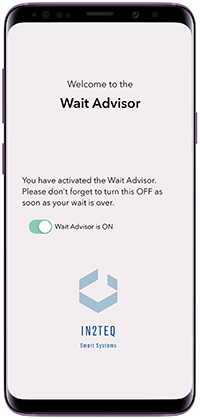 Click here to download the app from the App Store.

Click here to download the app from the Play Store.
How It Works
The Wait Advisor is an app for use by Australian truck drivers who are keen to see changes in how delays and long waits are managed. Users of the app will be deemed as volunteer informants. As a volunteer informant, you will, at your sole discretion, provide information about the delays and waits you may encounter in the following easy steps:

To use the app, the location service (GPS) of your phone must be enabled and the phone is connected to the Internet either using WiFi or mobile data.

At the first sign of waiting or delay, flick the Wait Advisor switch ON.

As soon as waiting or delay has ceased and IT IS BOTH SAFE AND LAWFUL for you to use your mobile phone, flick the Wait Advisor switch OFF. That is, before even starting your engine. Otherwise, as soon as the app detects that you are already in driving speed, it will turn of by itself. No worries.

That's it. As soon as we get an aggregate data that will make it difficult, if not impossible, for anyone to identify you by cross-referencing dates and times, we'd be able to release the data to the public.
Read the Privacy Policy